Race Splits
Race Splits:
(14th Age Group, 108 overall out of ~2400)
Swim: 47:06 (1:13/100 meter pace for 2.4 miles)
T1: 5:03
Bike: 5:25:21 ( 21.39 mph for 116 miles)
T2: 2:34
Run: 3:41:50 (8:28 per mile for 26.2 miles)
OVERALL Finish Time: 10:01:54
PRE-RACE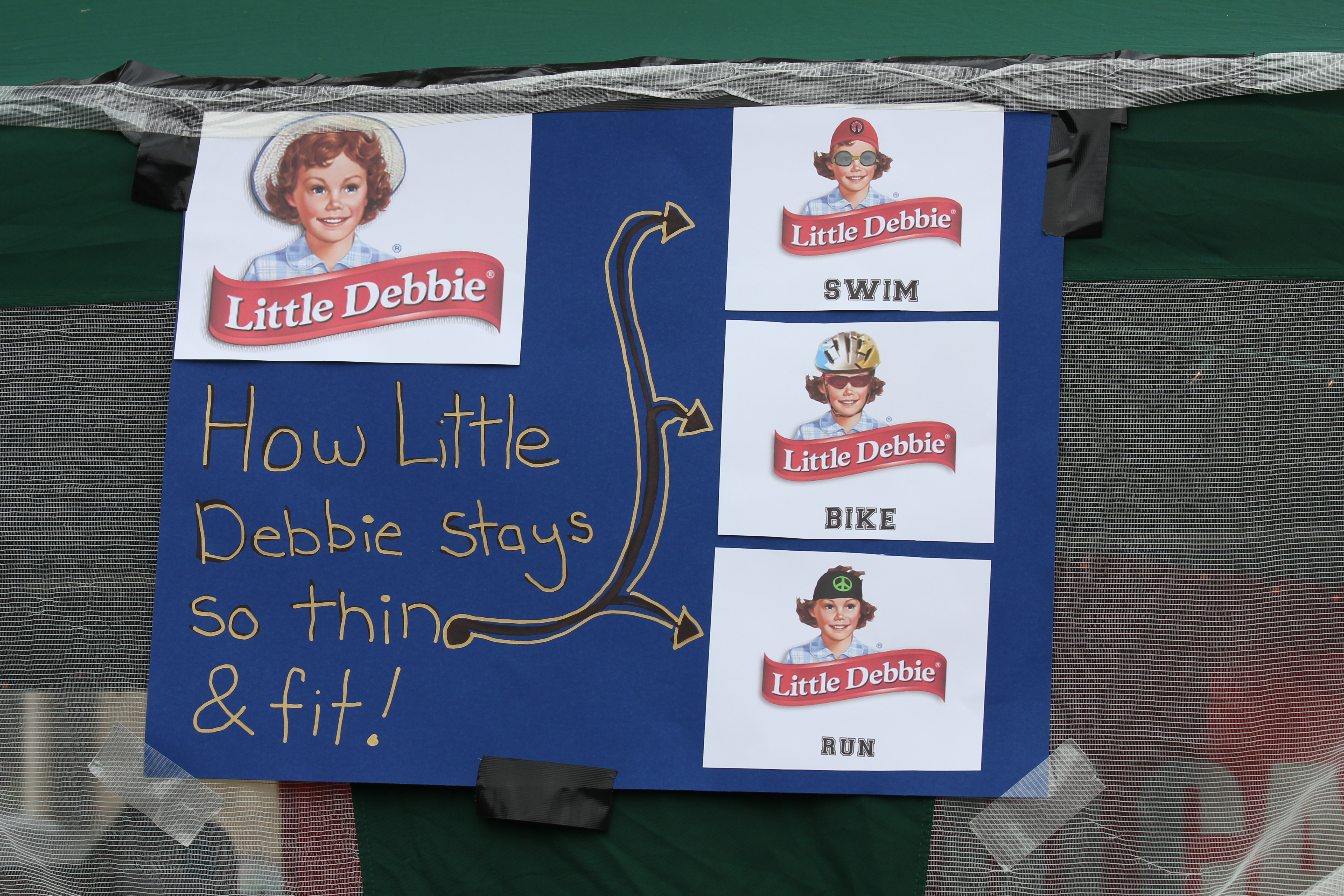 Things have been very interesting the last 3 months since Ironman Coeur d'Alene and the windy race it was. Having never done two Ironmans in a single calendar year, much less two in 3 months, this was uncharted territory. You never know what can happen unless you put yourself out there and attempt it. I was fortunate enough to be racing with two good friends, Laurie Hahn and Larrisa McBride (her first). I can't say that I was physically healthy going into this, but I surely had hoped I would be by this point. My sciatica and piriformis have been at all time highs on the pain charts, so I had already mentally prepared myself for a higher than normal day of pain. This on top of the fact that WTC decided to add a little "bonus" fun to our day by making this 144.68 miles vs. the standard 140.6. Logistically, I understood as it would have been difficult to change the bike course, so it just meant that we get to race longer mileage and earn a little extra badge of honor that day.
I'll try not to bore you with a bunch of boring details, but I would like to comment on the host city of Chattanooga. I didn't get to stay near the race site, but was okay with that. Given the extremely small airport, I wasn't sure what to expect when I arrived. The people are the true definition of southern hospitality in my mind. I truly felt right at home around the volunteers and citizens of Chattanooga. I can't recommend this race enough as it is one that really sticks out in my mind of a beautiful race. More on that in a bit.
RACE DAY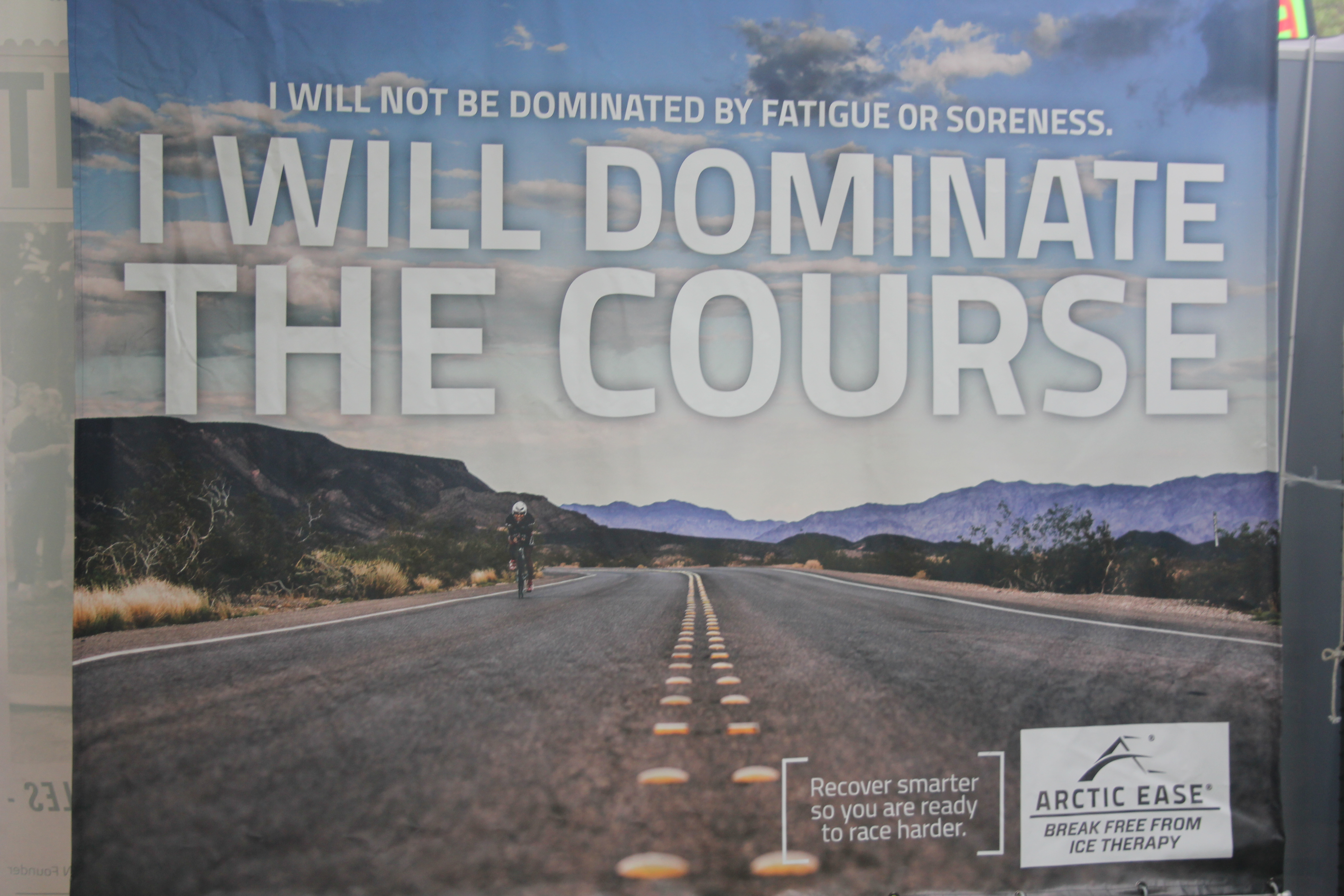 The only major report before the race was to know they bus you to the start. A short 3 mile bus ride and you are dropped off in a long line of people that lead into the darkness of what I could only assume is the lake at the end point. I got to see my pal LH that morning and she looked primed for a great day of racing.
SWIM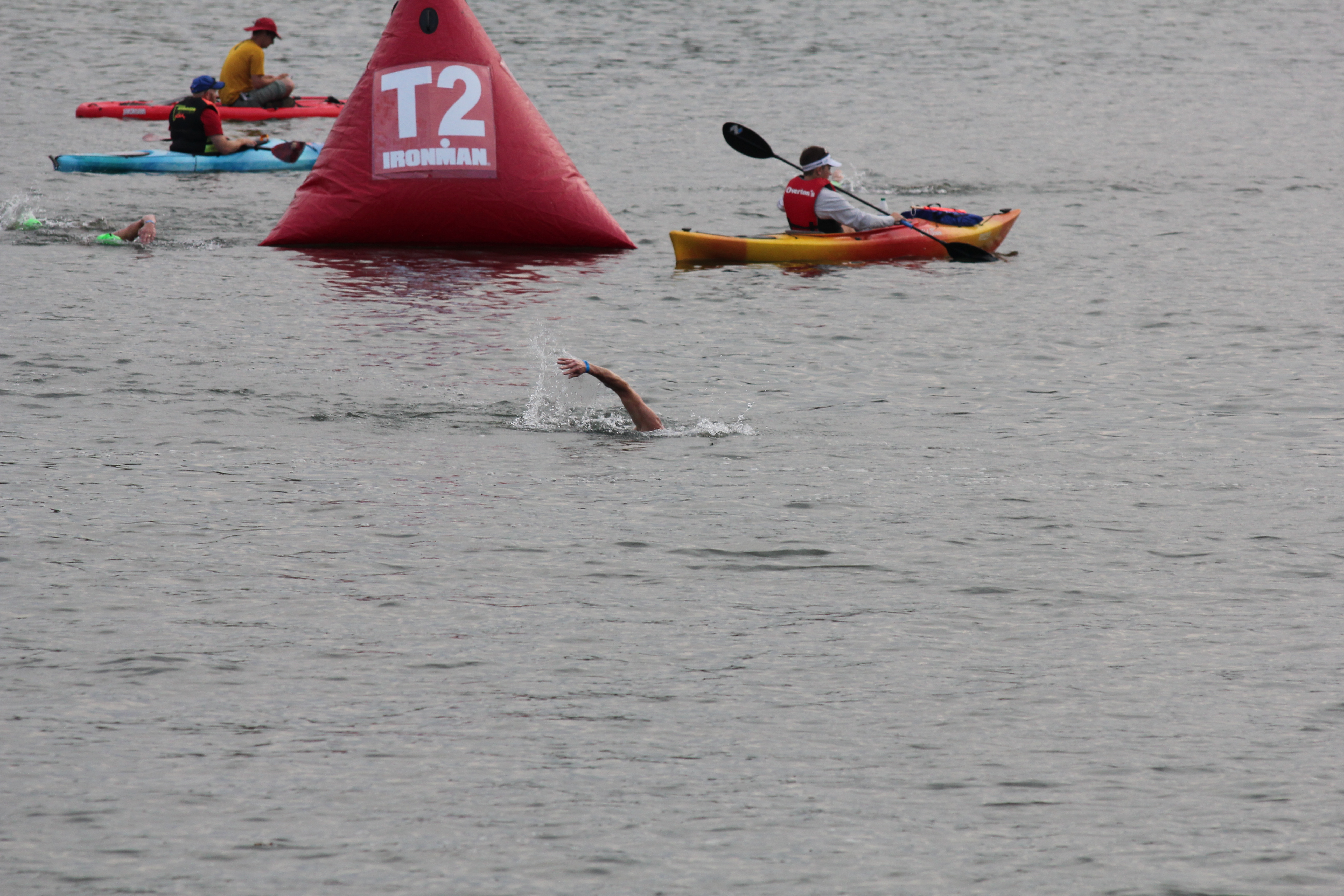 I wasn't really interested in standing in this line of 2500 athletes since I couldn't even hear Mike R. over the PA system from the drop off point. I quickly made my way through hundreds of people in line until I met some very nice guys that let me join them in line about 100 yards from the starting line. This would be my only area to recommend they figure out some way to organize the start better next year. Rumor has it that it took over an hour to get everyone in the water. It took me about 5-10 minutes after the gun went off to even get to the water. Once there, I quickly jumped in and start swimming in what has to be the best Ironman swim in the world (okay, maybe not as good as Austria). This is a downstream swim with a slight water flow carrying you faster than normal. No complaints and hardly anyone to even worry about swimming around. Buoys are on the left of the river and they told you to keep them to your left. The river actually makes a dogleg turn to the right, so why in the world would I not swim the tangents? So yes, I swam the tangents, completely amazing swim and realized half way through that I had only been swimming 20 minutes. WOW! Needless to say, when I came to the water exit and saw 47 minutes on my watch, I was absolutely thrilled. What better way to start your 116 mile journey than on a positive note. No complaints from me! FAST SWIM, CALM WATERS, NO BEATINGS, RECORD TIME! DONE AND DONE!
T1
I saw a few friends during my 1/2 mile jog to T1 including Shellie from Houston and my 2XU AWESOME Rep Jenn Santel! I absolutely love our 2XU kits and have been working with them for over 3 years now. Just ready to get on with the bike ride.
BIKE
Wasn't sure what to expect from my hip and back today, so just started riding race effort from the gun. I decided if the body didn't want to cooperate, I could always back off and just enjoy the day. Five miles in - good, ten miles in - great, 15 miles in - could this get any better? What in the world is going on? No pain? Haven't ridden like this all year. Decided to keep the power steady for as long as the body holds up. The odd part was I was riding about 95% solo up to mile 40. There were one or two guys here and there that I'd pass or they'd pass me, but very few cyclists around me. Mile 40 all things changed when a pack of 19 cyclists came buzzing by me like I was sitting still. That's fine, I don't mind they can ride faster, but do they have to cheat right in front of me? Guys were completely ignoring the no drafting rules by riding in a straight up peloton, wheel to wheel, with the last guy constantly turning around checking for a bike marshall. Mile 52 was the special needs stop and it really broke up the group, at least half of them anyway. I was still shocked out how I was feeling. This bike course is awesome! Gentle rollers and I don't think I've come out of the saddle yet. Stay aero, ride hard, embrace the suck! Well, loop 2 hit me and so did the back pain around mile 60. Refocus my wattage and cadence and it disappeared again by mile 65. About 3 more rounds of that and I just continue to push the hardest wattage I can. If you've never taken a chance on the bike leg of an Ironman, you never know what you're capable of. I decided by mile 20 that today was the day I take a chance. You don't know what a certain bike wattage will do to your run until you test it. So far I was on target to hold almost 25 watts more average than any other ironman ever. It was still under my half ironman bests, so I knew I'd be okay. Pushed hard all the way to mile 116 at the dismount line. Wow, most fun bike ride I've ever had. Despite the few back aching sections, that was the most positive bike experience in a race ever for me. The bike course is a very beautiful, country road, rolling hills, good road surfaces kind of ride. I really enjoyed this course and hope they keep it going there. It'll be a true loss if they don't.
T2
Not much to report here other than I was feeling okay going into the changing tent. Sat down to get my gear on including my fuel belt b/c I learned recently that Ironman Perform really jacks up my GI system. I decided early on that I wouldn't depend on that ever again. I saw my beautiful photographer and bride coming out of T2 and that really helped me move along. Now I was fueled by my Infinit Custom Solution and...hm...mile 1 and my Powerbar gel flask has somehow disappeared. HM...now what?
RUN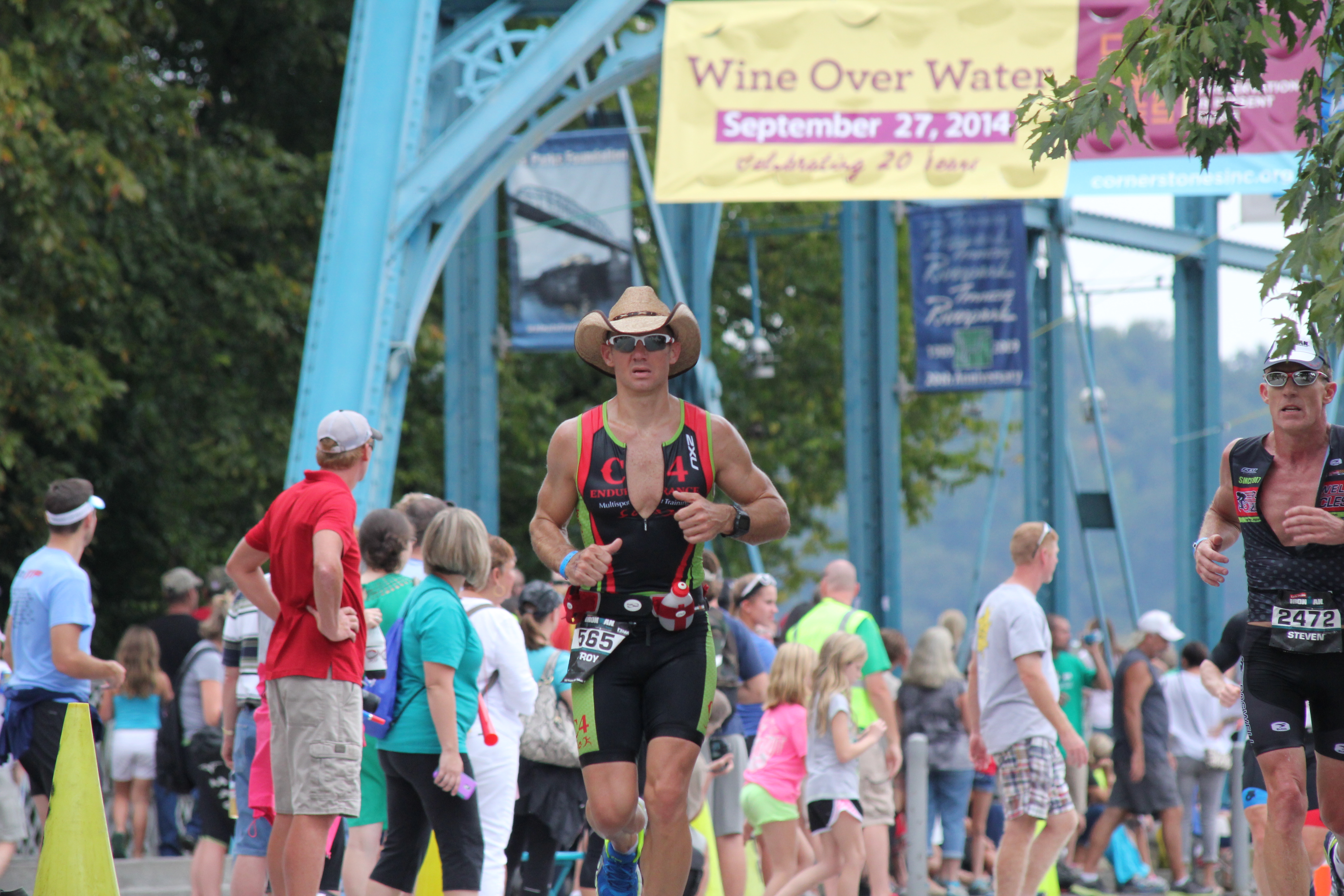 Well, you can tell where this is going. Somehow lost my gel flask in T2 so had to alter the nutrition plan and try a GU instead that they hand out until I get to special needs. I was feeling pretty good, but knew I didn't have much left in my legs and 7:30ish mile splits were about all I could muster at this point. I also figured out the REAL marathon begins at mile 8 when you hit your first hills. Now THESE are hills! 1250 feet elevation gain apparently. I did okay on loop 1 despite it feeling like I was barely moving up Barton street which was what felt like a 10 mile 45% grade. Yeah...probably only 1/2 mile and maybe 8-10%? just guessing. My Infinit nutrition was spot on and shockingly, the GU worked well also. Things continued to go well, but I fear between the bike effort and the hills on miles 8-13, my legs took a beating. I felt fine on energy, back and hip were okay, but legs just had no juice. By mile 18 back on the hills again and it was all I could do to keep running. Embrace the suck! Full on heavy rains by mile 15 through the end of the marathon. I must have been in a cloud b/c I almost missed the turn for the finish line. Don't think I can take another wonderful loop of that run. Yep, I'll go finish now and sit down for awhile. Great spectators from miles 8-13 and 20-26 of the run! The rest is a lot of concrete and very few spectators. Reminds me a lot of TX but with hills.
THE FINISH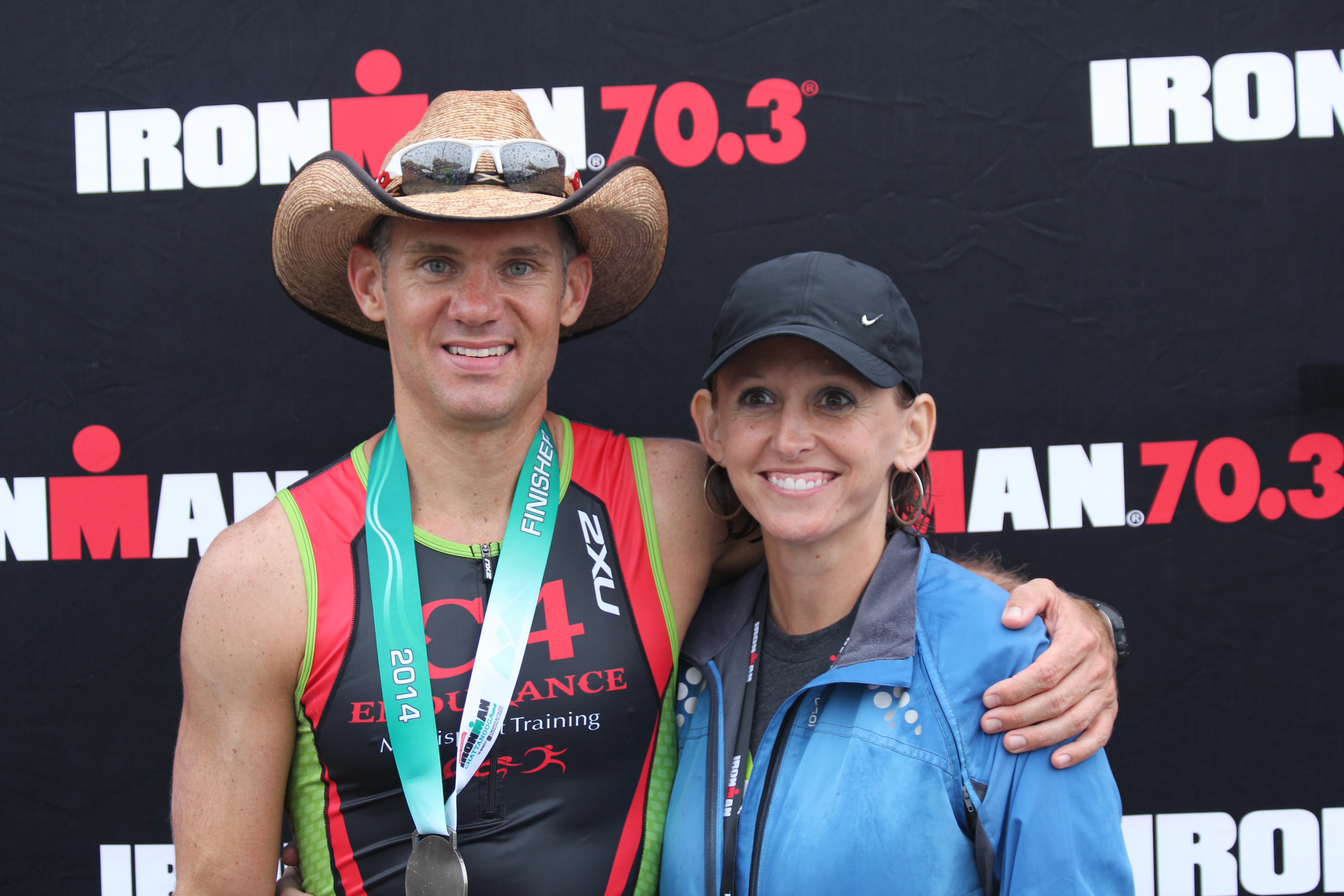 This was my 7th full Ironman finish. It may not have gone as planned on the run, but truth be told, my running has sucked all year b/c of this sciatica crap. I'm happy with the results I have achieved this year with the body God gave me to do it with. I will continue to rehab and get therapy for my issues and hopefully come back stronger in 2015. Thank you to my wife and boys who put up with countless hours of me swimming, biking, running, and lifting (and being tired most evenings b/c of early mornings). Thank you to TRG for standing by me on those long rides when the heat really cooked us out there. Thanks to Jack and Adams for always being there for me no matter my needs. Thank you to my athletes that always inspire me to work harder. And thank you to my nutritional sponsor Infinit Nutrition. Thank you to TriBike Transport for getting my beast of a ride to and from Chattanooga safely! You guys are all the greatest group of people anyone could ask for. Until 2015, train hard, race hard, and be strong!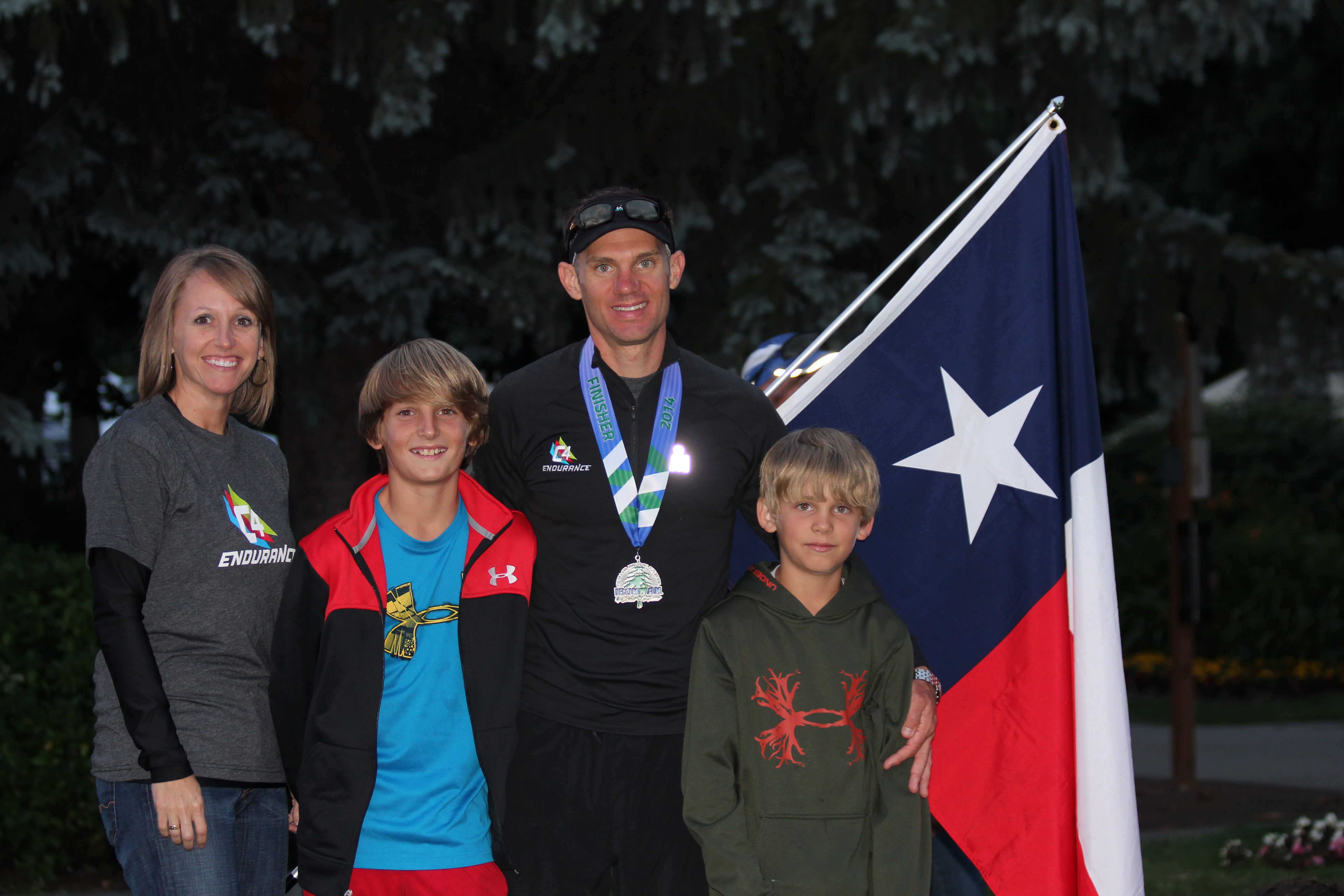 Cowboy Up!
Happy Trails!
~Coach Troy